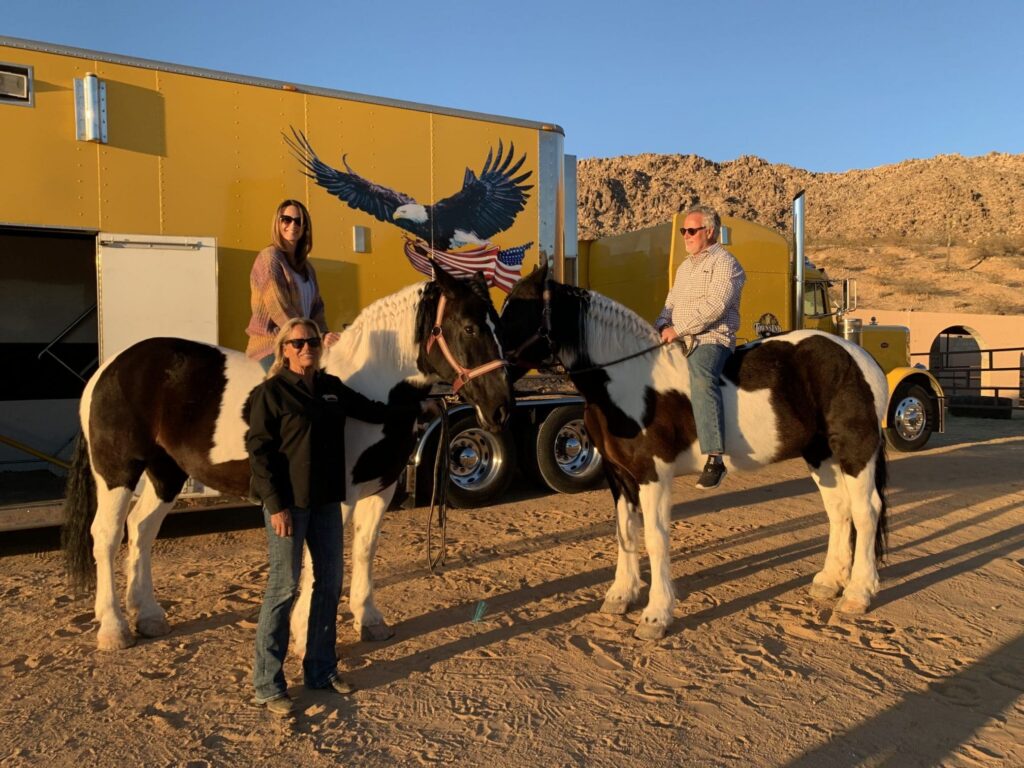 Cody, Cory, Justin and Jesse
Born in the midwest and trained together in Minnesota, these gentle giants have been pulling the Town's End Wagon for over a year now, and have become a popular fixture at Town's End events. All four horses are six-year-old Percherons, coming in at around two thousand pounds, with a height of almost eighteen hands. In the lead are Cody and Cory, whose job it is to point the team in the right direction, and following behind them are Jesse and Justin, providing more horsepower. All four are hard at work every week training in Apple Valley with their human team. When they're not working, the boys enjoy rolling in the dirt, chasing each other around their pen, and playing in their water buckets!
Meet The Team – The Swaynies
Jim and Neila Swaynie have been working with the Town's End Team since before its opening, leading the Horse Division as drivers and trainers. The six horses that make up Town's End's Horse Division are housed at their ranch in Apple Valley, Painted Skies, where they also conduct horseback riding lessons and board horses of all kinds. They have also served at Sunset Hills Memorial Park, driving a two-horse team for services and weddings. Jim and Neila blended their families over twenty years ago when they married, and raised their children in the high desert where Neila grew up. When they aren't working with their horses and running the ranch, they enjoy spending time at the river with friends, or making a trip down to the ocean.