Roasted Garlic & Herb Butter – $3
Bleu Cheese Butter – $3
Chimichurri  Sauce  – $3
Homemade Steak Sauce – $3
Balsamic Caramelized Onions – $3
Add Shrimp – $8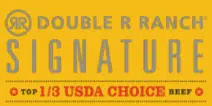 Double R Ranch Signature
The Double R Ranch experience you expect is in a category of its own. Our Signature brand embodies the premium attributes of our Double R Ranch grain-fed beef, raised in the mild climate, wide open spaces, and abundant natural resources of the Pacific Northwest. Double R Ranch Signature Northwest Beef is a unique program; hand selected and made-to-order, it provides your customers with the very best USDA Choice eating experience available. (Choice+ Moderate 0-100 only).
16 oz Ribeye – $50
16 oz New York Strip – $40
8 oz Sirloin – $32
6 oz Filet – $40
Tomahawk Steak 34 oz – $110

Dry Aged

16 oz New York Strip 28-day – $50
16 oz Ribeye 28-day – $60
16 oz Ribeye 45-day – $75
Top 1/3 USDA Choice
Double R Ranch Signature is the original USDA Certified Top 1/3 Choice program and one of very few programs of its kind in the U.S. Most Top Choice programs capture the upper 2/3 of choice marbling, while Double R Ranch Signature includes only the highest, Top 1/3 tier of the marbling scale. By isolating only the top end of the Choice scale, your customers are guaranteed unmatched marbling and consistency, providing an dining experience similar to Prime, with a great value and better overall supply availability.
Grilled salmon with a honey peppercorn glaze, served with roasted root vegetables.
Twin 6 oz. Northeast lobster tails, served with asparagus.
Sautéed blackened shrimp served over grits and topped with spicy Creole sauce.
Seafood dish inspired by our docks on the Pacific coast. Ask your server for details.